An exhibition of the ancient art of navigation.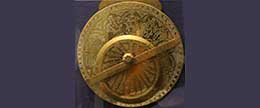 From our collection: Astrolabe
From our collection: Astrolabe
Did you know that an astrolabe was used to calculate the time of day based on the movements of the celestial bodies? They were first used in ancient times. The picture shows an astrolabe with etched figures representing the various constellations, with their name. It belongs to the Naval Museum's collection.
Land Ahoy! shows you the history of navigation and follows the art of marine travel through the centuries.
We exhibit fragile navigation instruments from the museum's collections and from our sister museum, the Maritime Museum in Stockholm. These include an astrolabe and the first handwritten version of Petter Gedda's sea atlas from 1693.
Related material: