The exhibition Life on Board gives an idea of what life was probably like on a warship.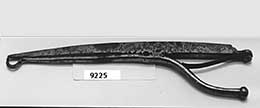 From the collections: vein clamp
From the collections: vein clamp
Did you know that we have medical objects from the 18th century in the museum´s collection? The picture shows a so-called vein clamp used when amputating arms and legs. Dated to 1700-1799.
You can have a look under the deck and see how the crew lived. Through different observation cabinets you will gain an insight into the sailors' life: what they wore, what it looked like, what they ate and drank, what happened if someone became ill, and how crime and punishment was managed on board.
Related material:
What did the crew eat onboard a Swedish 18th century warship? What did it taste like? How did it affect the body?