Several-hundred year old ship models, smart designs and beautiful decoration are all included in the Naval Museum's Model Chamber exhibition.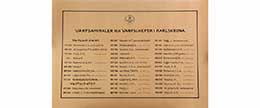 From our collection: poster
From our collection: poster
Did you know that the shipbuilder Fredrik Henrik af Chapman was shipyard admiral at the Naval Shipyard in Karlskrona 1782-1793 ? In the museum's collection ther is a poster that lists all shipyard admirals and shipyard managers who have worked at the shipyard from 1773 until 1948.
The Model Chamber is the heart of the Naval Museum and was founded in 1752 by the reigning king, Adolf Fredrik. The king wanted all the models built in the shipyard in Karlskrona to be saved for the future. The Model Chamber housed a collection of ship models, designs, decoration, and models of art and architecture.
These models were the method used at the time for testing the characteristics and technical solutions of various designs before they were built on a large scale. The process is similar today, except that we can use powerful computers and advanced programs.
You can now see these unique and fascinating original models in the Naval Museum's Model Chamber. They give a really fascinating insight into engineering and thinking in the 18th century.
Related material: