The fleet underwent major changes in the nineteenth century, when sail and wood were replaced with steam and steel.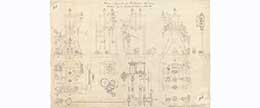 From our collection: drawing
From our collection: drawing
Did you know that we have drawings of steam engines in the museum's collections? This is the drawing of the steam engine for the Monitor. From 1885.
Sailing ships were under competition from steamboats and wooden schooners were replaced with ships of steel. To begin with, ships did not rely entirely on steam engines, but also had sails. You can see an example of this in the model of the armoured ship Sverige displayed in the exhibition.
You can also try a propeller steam engine, feel the thick iron hull of a ship and look into a model of the cannon tower on the armoured ship Sverige.