Close contact with a submarine from the cold war, and 110 years of submarine history. In the Submarine Hall you can learn about what has been closed and prohibited in the past.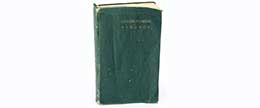 From our collection: gastronomic guide
From our collection: gastronomic guide
Gastronomic Guide, the fourth edition, have been used by a chef on board a former submarine named Neptun, launched in 1942. The book belongs to the museum's collection.
Next to the high-tech Neptun submarine is its predecessor and the Swedish fleet's first submarine - Hajen (The Shark) from 1904.
The two submarines are surrounded by the submarine fleet's 110-year-old history, which you can learn of through personal stories, events and exciting phenomena. There are also hands-on stations intended for adults and children alike.
Related material: