More than eight million Swedes in total have signed in for military service. The exhibition called the End of the Line tells the story of general conscription.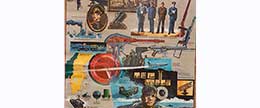 From our collection: recruitment poster
From our collection: recruitment poster
Did you know that the Coastal Artillery was founded in 1901 ? The Coastal Artillery was also based on general conscription, and in the 1960s or 1970s, this recruitment poster was released. The poster shows the artillery´s different tasks. Today, there are no Coastal Artillery left. The poster belongs to the museum's collection.
General conscription was abolished in Sweden on 1 July 2010, after 109 years. The Naval Museum documented the last group of conscripts with interviews, photographs and regular study visits. We also collected equipment and diaries.
The exhibition presents historical events, but also the debate on military service that arose after the 1968 movement, Sweden's state of preparedness and the international tasks of the Swedish Armed Forces.
The End of the Line is an active exhibition where you take a standpoint on what you think about military service through a series of questions. There are also objects for those who want to look back in time, as well as photographs and videos that show conscripts' everyday life through the years.
Related material: