There was full activity on the gun decks during the secession of the Gulf of Finland in 1790.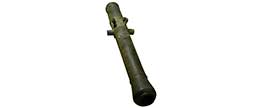 From our collection: cannon
From our collection: cannon
Did you know that in 1887 a 12 -year-old fisherman fished out a cannon at Flaggskär in the Blekinge Archipelago? The 6- pounder cannon is made ​​of metal and molded 1628. The coat of arms on the cannon belongs to the county of Mansfeld, a former German counties since the 13th century belonged to the family Mansfeld. The gun was redeemed by the Karlskrona Naval Shipyard by the amount of 500 SEK in 1888.
The gun deck is a model in life-size, allowing you to get to know the crew on board Dristigheten (Audacity). You learn about their work on board, how they were dressed and how they worked together firing the cannon.
Voices and light give you the impression of being on board and taking part in their work.
Related material: