In her time she was the world's fastest warship, and when the cold war prevailed in Europe she was geared up to use her torpedoes and depth bombs. The motor torpedo boat T38 is a power package that made a comeback after more than 40 years on land. During summer (June - August) she is moored at the dock of the Naval Museum.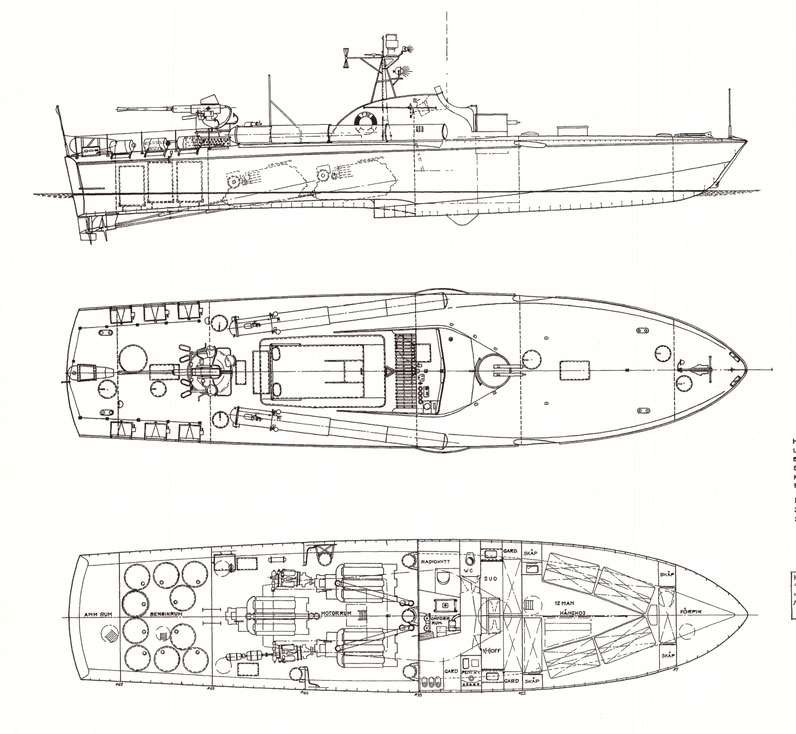 From our collection: Drawing
The T38 is one of the Naval Museum's smallest museum ships but it is perhaps the nicest. She was built at the Kockum's mechanical showroom in Malmö and was launched in July 1951. The T38 is one of the 10 motor torpedo boats, in the so-called T 32 class, which was ready in the early 1950s.
With a weight of 40 tonnes, a length of 23 meters and a width of 5.5 meters, she was a small warship. With her three W18 motors, her combined power amounts to an impressive 4,500 horsepower. Such motors are not completely fuel-efficient, however, and the T38 tank space could save up to 10,000 litres when the ship was in the marine service.
The T38 was and still is extremely fast. In a speed test carried out in 1956, the vessel reached a speed of an impressive 51.6 knots, making it the world's fastest warship at that time.
Proper arsenal
The T38 was stationed at the fascinating Gålö Naval Base – which was for a long time a highly secret location – in the Stockholm archipelago. When it served in the cold war in the 1950s the ship had a crew of 16 men and was ready to perform several types of missions. The T38 was equipped with torpedoes, depth bombs, and mines. Her main tasks were to attack ships and enemy ports, but she had other tasks as well, such as mine-laying, patrol and investigation. The ship also has an anti-aircraft gun and two double machine guns.
Comeback after more than 40 years on land
Time caught up with the T38 after just five years in the marine service. A new series of highly efficient torpedo boats – the so-called T42 class – was introduced in the Swedish navy and the T38 was forgotten by Karlskrona for 22 years, until 1978 when she was exhibited in Malmö museums. In the mid-1990s, the Naval Museum, having become her owner, carried out an extensive renovation, restoring the T38 to her original condition. This was done by a group of volunteer torpedo enthusiasts, with support from various sources including the Naval Museum and the navy. In May 1997, a completely renovated T38 was launched again for the first time in over 40 years.
Today, the T38 lives an active life. Now lovingly taken care of by the association "Friends of the T38", the vessel whizzes past now and then in the waters around Karlskrona.